Home
›
Reviews
Mpow Wired Earphones - Durable, Comfortable, Sounds Great... but doesn't blow me away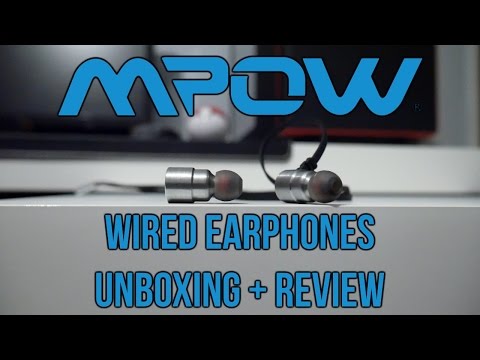 DISCLAIMER: This product was sent to me for free in exchange for an honest, unbiased review
These earphones look amazing, and they sound great. The quality of the Mpow Wired Earphones are great!
The build quality of these earphones are great, the part that goes into your ear is fully metal and also seems to be very durable. I had it in my pocket whilst I wasn't using it and it did get knocked about but there doesn't seem to be any scratches or dents. The cable is quite thin, which means it doesn't get tangled easily, but I think it should be slightly thicker to make it more premium.
Once you plug it in to your phone, you can use the multi-function button to pause/play tracks. This is especially helpful as it also works with YouTube.
The sound quality of the Mpow Wired earphones are great, but they don't blow me away. There is a lot of emphasis on the low end which is great for music with a punchy bass, and the mids (such as vocals) are very clear. However, the high end seems a bit muffled which means the trebles are sometimes unclear. Also, if the wire is rubbing against something such as your clothes, you will be able to hear that.
In my opinion, they are also quite comfortable. I prefer using the smallest earbud that comes with this as it fits my ears the best. (the medium sized earbud fell out of my ear a few times) It seems to create a seal between the earphones and your ears which helps cancel background noise. As they are quite a bit longer than other earphones, they can feel different at first but you eventually get used to it.
In conclusion, I think that these earphones offer good value for money as the sound is great, especially for music with a lot of bass. Also, they are very comfortable, built well, and incredibly durable. However, as the high end is slightly unclear and you can hear when the wire moves, I am rating it 4 Stars rather than 5.