Home
›
Reviews
Twitfish Multi-Tool Stylus Pen - Great pen for the features it offers!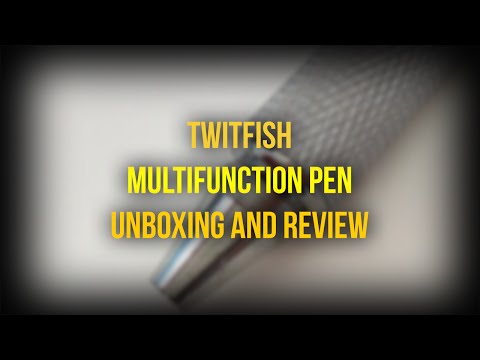 I was sent this product for free in exchange for an honest, unbiased review.
This pen has many functions and is incredibly useful to me, so here is my review of each part of the pen.
The Pen:
The use of this multi-tool as a pen is similar to that of a biro, it isn't very inky and not as smooth as liquid gel pens but it gets the job done. Also, the pen has a really nice metal grip that feels incredibly premium and is used to retract the pen by rotating it.
The Ruler:
The ruler on this pen works quite well, but it cannot be used to draw lines accurately that well because of the orientation as you have to turn your head to the side to see the numbers on the pen. That said, however, it can be used to measure small things under 7 cm /3 inches so it is still quite useful
The Spirit Level:
I don't really use this that much but it can be really helpful when aligning posters and picture frames. For this, I usually use an app on my phone but this could replace the need for me to use an app, as this is much more convenient.
The Screwdrivers:
It is always useful to have this on you, as you never know when you might need to use it. For example, I have used it to tighten compasses and you can also probably use it to repair things as well as to unscrew battery covers to replace batteries. It has both a slotted drive end and a Phillips end so can be used for many things.
The Stylus:
As an enthusiastic smartphone lover and user, this is my favourite part of the pen. It works really well and is smooth when gliding across the screen. It always registers swipes and presses, and is particularly useful if you are the sort of person that doesn't like fingerprints on the screen of your phone.
In conclusion, I think this pen is great as it has many useful functions, feels premium and the stylus works very well. However, as the pen is a little scratchy and the ruler could maybe work better, I am only rating four stars rather than five.